Ways to Make Your Bathroom Sleek and Stylish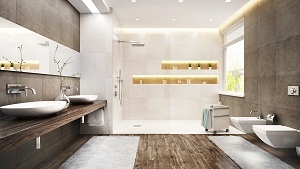 Bathrooms are where most of us put ourselves together and get ready to greet the world in our most stylish form. Why settle for a run-of-the-mill bathroom when you can start your transformation in the very room where you primp and prep? With a few simple tweaks and well-chosen additions, your bathroom could go from a boring backdrop to a participating element in your own style transformations.
Get a Fancy Mirror
Anybody can stick a piece of glass on the wall and call it a day. Choosing a framed mirror will not only class up your bathroom, it'll give you a frame to see your own personal upgrading each morning. This year, painted framed mirrors are all the rage. Classic chic calls for metallic and ornate frames, but many people are opting to switch to bright shades of pink, blue, or green. If most of your bathroom is done in modern monochrome or glossy black and white, picking a few bright highlights, including a fancy mirror, can really make your stylishness pop. You can even coordinate with your bathroom contractors in Alpharetta to incorporate light fixtures into the framed mirror of your choice.
Choose Elevated Containers
If you go into the top chic bathrooms around, even those in high-end hotels, there are a few differences you'll notice. One of these is that items from cotton swabs to potpourri are put in well-chosen containers. Keeping tissues or cotton balls in their branded packages can make your bathroom look busy. Who wants to look at labels and logos when they're taking a relaxing bath or putting on makeup? Putting cotton balls in a sleek fishbowl or a ceramic container can make the whole room feel more like home.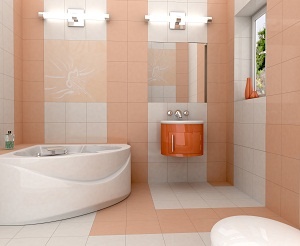 Create a Shining Shower
Showers with multiple shower heads or built-in sound systems are some of the top-of-the-line options available. Stepping into a personalized oasis of comfort and relaxation can transform your entire day, and a fancy shower will take your bathroom up a few notches. When you invest in customized shower installation in Alpharetta, you're creating something as unique and stylish as you are.
Pick Decorative Tile
From flooring to back splash, tile is a functional material that also has the potential to help you create a bathroom with style. Geometric patterns, delicate floral, or colorful abstracts: a well-chosen tile pattern can make a whole room. As experts in bathroom restoration in Alpharetta, we have a catalog of choices that will appeal to your own sense of design and will take your bathroom into another realm of style.