Unique Bathroom Remodeling Ideas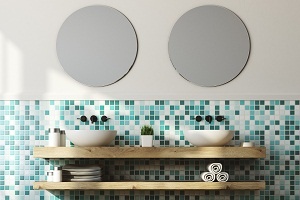 Though the room may be small, there is a ton of space for creativity in the bathroom. From the floor to the fixtures, there are plenty of ways to add your unique, personal touch to a bathroom remodel project. If you're looking for inspiration, you've come to the right place. Check out these bathroom redesign ideas that range from classic to one-of-a-kind.
3-D Tiling
For something funky and luxurious, consider three-dimensional tiles. These retro-inspired tiles draw from the art deco elegance of the 20s, as well as the funky pop art of the 60s and 70s. For a more serene feel, install tiles that simulate ocean waves in a symmetrical pattern. You can add a section of 3-D tiling behind the sink or line every wall; the choice is yours.
Subway Tile
Classic white subway tile is a look that will never go out of style. One of the best features of this tiling is its versatility. It works with industrial, traditional, and modern decor styles, among others. Install white tiles with dark gray or black grout, as this is the least likely to show soap residue and mildew stains. If you are redesigning with timelessness in mind, subway tile is the way to go.
Spa-Like Showers
When it comes to shower installation in Alpharetta, more and more homeowners are choosing a deluxe, spa-like shower. People want relaxation and luxury in their bathrooms. This means more lavish features like water jets, high-tech controls, steam showers, and multiple showerheads. Built-in benches are another trendy feature that increases the Zen feel of any walk-in shower.
Practical Storage
This is a bathroom design trend that will always be in vogue. Built-in cabinets are always a favorite option that provides plenty of space for linens and beauty products. If there is no room for built-ins, consider optimizing vertical space with open shelving or a unique piece of furniture.
Music
New technologies are being more and more entwined in homes every day. The bathroom is no exception. Whether you want to listen to relaxing tunes while taking a bath or sing along in the shower, you can do so. Bluetooth devices, wireless speakers, and docking stations are being integrated into vanities, mirrors, and even showerheads.
Chevron Floor Tiles
Make a bold statement in the bathroom with a striped chevron floor. A zigzag pattern is an easy way to add drama to a room. Keep colors on the walls and fixtures neutral to avoid distracting from the real star of the room. Consider using a bright color like red or blue in the bathroom floor tile.