Trendy Bathroom, Shower, and Tub Ideas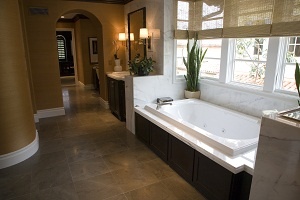 More than any other room in the house, a bathroom is not only a functional space, it's a personal sanctuary from a hectic world. Whether it's big or small, your bathroom should not only reflect your personal style but also be a room for relaxation and refuge. For most people, the shower and bath are the center points of both utility and comfort. Bathroom design in Alpharetta focuses on some specific trends and features for tub and shower design in 2018.
Freestanding Tubs
If you prefer a good soak to a shower, choosing a bathtub is an important decision. Designers are pulling tubs away from the wall and creating a stunning focal point that works for just about any bathroom. Create an even bigger impact by opting for a floor-mount tub filler, a tall, elegant faucet fixture that comes up out of the floor. You can even add a hand shower for added convenience. Surround your new bathtub with dark, bold colors to highlight your new centerpiece.
If you have a smaller bathroom, a freestanding tub may not be the best use of space, however. A crowded bathroom won't provide the sense of relaxation or functionality that you need. Every element should prevent wasted floor space, but even a small bathroom can be elegant and comfortable. Consider a soaker tub, with curved basins and clean lines, available in smaller sizes, but still comfortable for the average adult. Many of these tubs offer features such as lumbar arches that fit the curves of your body, relaxing massage jets, dual armrests, and deeper tub dimensions.
Trendy Showers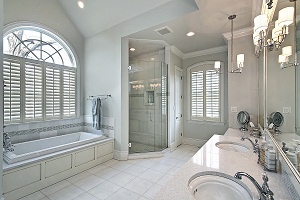 If you're redesigning a bathroom or planning a shower replacement in Alpharetta, it's important to consider the size of the space and explore the new trends and features available. Some of the showers that designers love for 2018 don't have sliding glass doors. Instead, those doors are being replaced with French doors, providing a stylistic, elegant feel to the bathroom.
Open shower installations in Alpharetta are a trending concept offering undefined borders with no doors. Instead, the shower is a designated part of the room and not a stand-alone installation. The bathroom is tiled wall to wall, from floor to ceiling, where the showerhead is mounted.
For those who still prefer an enclosed shower, a frameless glass door is a popular choice instead of the traditional aluminum-framed door. Multi-functional showers are also trends designers are opting for, with steam options, multiple shower heads, benches, and recessed lighting with color effects.
The Importance of the Backsplash
When choosing a bathroom design or renovating your current bathroom, every detail matters. Seek out the services of an experienced design company for not only aesthetic guidance but for professional fixture and backsplash installation in Alpharetta. Preferred bathroom wall and backsplash styles include matching tile that surrounds the room; bright, bold colors; dark wood contrasts; and natural tile and other elements. You can enhance the style of any bathtub and shower with the right wall, backsplash, and floor choices, and create a trendy, elegant, or contemporary feel for your bathroom.