Tile Care and Maintenance Tips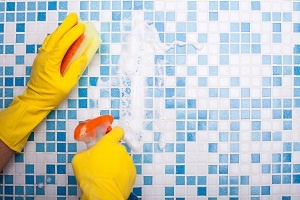 Tile is the ideal option for many. It's durable, resilient, and can be found in a variety of different colors and patterns. Whether your style is modern or if you prefer something more traditional, there's a luxurious tile option to match. Once you have tile installed in your kitchen, bathroom, laundry room, or other living spaces, it's up to you to keep it looking great. Here are a few cleaning and maintenance tips from your tile installers in Marietta to keep your flooring looking great.
Basic Cleaning
Keeping your tile squeaky clean on a day-to-day basis is fairly easy. Use a broom or a vacuum to remove dust and debris before applying any cleaning products. Then, use a damp mop to give your tile a deep cleaning at least once a week. While keeping your tile clean on a daily basis may seem like overkill, it decreases the signs of wear and prevents grit and dirt from wearing down the finish.
Glazed Tile
Glazed tiles are traditionally a bit shinier than other types of finished tile. Because of this, they require a little bit of additional maintenance to stay looking new. When these tiles are installed on your floor or on your backsplash, use an all-purpose cleaner that isn't oil-based to keep things clean. If you notice a buildup of soap scum, mildew, or hard water deposits, start using an everyday multipurpose spray. You'll find that your tile remains looking sleek and spot free.
Unglazed Tile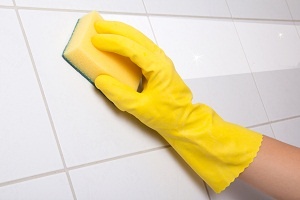 Unlike glazed tile, unglazed tile doesn't have a shiny finish. This makes it a lot easier to clean. When looking for a tile cleaner, choose an option that is pH neutral and designed for tile cleaning. Spray your tile as needed to remove spills, grease, and oil, and wipe it away using a clean, damp towel.
Preventing Damage
While tile is meant to tolerate high traffic, it can chip if you're not careful. To prevent cracks and damage from occurring, don't use scouring products or sealants without verifying that they're made for your type of tile. After cleaning, make sure that you rinse the area to remove any chemical residue. It's also important to use a sealer on the grout as needed to prevent water from seeping underneath your tiles. If you do notice any damage to your tile, call a repairman immediately. Replacing or repairing damaged tile is key to preventing the spread of water damage, mold, and mildew.
There's nothing that will make a space pop faster than tile installation in Marietta. Whether you choose a honeycomb tile or subway tile, keep your surface looking just as fresh as the day it was laid with proper care and cleaning.