The Top 8 Bathroom Makeover Trends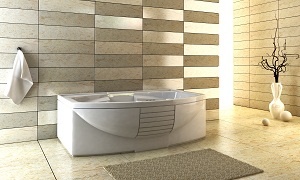 Do you want a home full of beautiful bathrooms? Every bathroom should be styled to not only impress your guests but to keep you falling in love with the room every single day. Relax in a bathtub after a long week, get ready with a stylish mirror, and wash up tired hands in beautiful surroundings. If you want to experience the joy of owning beautiful home bathrooms, look out for the latest design trends. Bathroom makeovers in Roswell, GA, tend to follow one of these 8 innovative and inspiring trends.
· Beautiful storage - They say that form should follow function, and beauty follows both. Custom bathrooms today are full of unique but functional storage options, like open floor-to-ceiling cabinetry or antique armoires that act as privacy walls between the toilet and the shower.
· Arabesque tiles - Turn to ancient mosaics for a traditional touch in contemporary bathrooms. Add floral or geometric tile mosaics to the shower, vanity backsplash, the floor, or an accent wall.
· Focal lighting - Take your eyes off the obvious bathroom appliances and make a unique light fixture like an artful sconce or glass orb pendant light the architectural feature of the room.
· Industrial fittings - Transform an overly feminine bathroom with industrial features like iron towel racks, repurposed objects such as lighting, or console sinks on polished pipe legs.
· No thresholds - Take inspiration from small European bathrooms and create an open, seamless room. Hire shower pan repair to make the shower floor and bathroom tile match perfectly. Then, take down any half walls or bulky storage and hug all features close to the wall.

· High vanities - Have you ever wondered why bathroom vanities are usually very low? Stop stooping over to wash your hands or put on makeup. Install an elbow-height vanity with a durable stone countertop for comfortable everyday use. Try a floating vanity to prevent a bulky look.
· High-tech bathrooms - Don't wait until your bath ends to enjoy your favorite media. Streaming media services have brought back the 1990s trend of bathroom TVs and stereos, only now the technology is more streamlined, advanced, and stylish.
· Advanced showers - The shower experience is elevating beyond spa levels thanks to new technology, like water-conserving body sprays, water jets, and ambient shower lighting. Make over your shower for an experience you'll look forward to every day.
Every home needs variety and to give every bathroom or powder room its own personality, so try incorporating a few of the above design trends into your home. Locate contractors who specialize in bathroom makeovers in Roswell, GA. Their design and installation expertise can offer you the best bathroom you've ever seen, right in your own home.