How to Budget for Master Bedroom Remodeling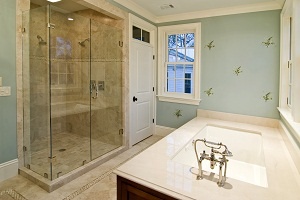 Of all the possible remodeling projects, taking on your master bedroom is one of the most fun, rewarding, and practical. Most people spend a significant portion of the day in their master bedroom, since it's where you sleep, get ready, relax, and get a little privacy from the world (and your kids). Read on to learn about budgeting for a remodeling project, master bath remodeling in Roswell, GA, the benefits of updating your master bedroom, and more.
Why Remodel?
While some remodeling endeavors are simply passion projects or things that homeowners prefer due to aesthetics or functionality, there are actually many benefits to smart remodeling. Updating kitchens, master bedrooms, and master bathrooms are some of the best investments you can make in your home, since they increase the value of your home as well as increase its appeal to potential buyers.
How Much Will You Spend?
Obviously, the cost of remodeling varies greatly depending on the extent of the work you're having done, the quality of the materials you choose, and the extras you throw in. Some experts recommend planning on $110/square foot for bedroom remodels, but you'll be better off getting a quote from local professionals who know your specific plans. Structural changes like adding windows or moving walls incur greater costs than simple, cosmetic updates.


Let's Talk Bathrooms
Your en suite master bathroom is another consideration when setting your budget and overall plan. $10,000 to $30,000 is an average range for master bath remodeling in Roswell, GA, but just like other remodels, this cost varies from project to project. Common focuses include updated flooring, shower or tub options, counter space, sink setups, mirror space, and other details that meet your specific preferences and needs.
Closet Space
In addition to the sleeping area and the bathroom, the third main area of consideration is the master closet. From something practical and functional or spacious and luxurious, creating the closet of your dreams is not all that hard. Floor space, hanging space, and shelving are your staples, but other fun extras can be worked into your plans in order to make your closet one of your favorite spots in the house.
Details Matter
When it comes to your actual remodel, the sky is the limit. Meaningful details are the best way to make your space your own, and they set gorgeous homes apart from generic plans. Beautiful flooring, flattering lighting, unique designs, and functional details can all be laid out with the help of your experienced and knowledgeable remodeling contractors.