Different Types of Tile Flooring Materials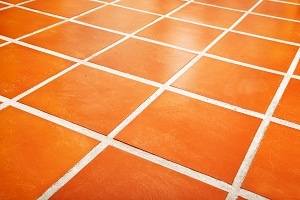 The floor is perhaps the most underappreciated part of the home. It must be strong enough to withstand constant footsteps, appliances, and accidents, but beautiful enough to pull together the whole room. One of the best flooring materials that achieve both these necessities is tiling. Tiles perform exceptionally well in the kitchen and bathroom, though they can be used in any room. Here are a few of the dozens of tile varieties that you can choose from.
Ceramic
Ceramic tiles are one of the most commonly used flooring materials. This is mostly thanks to its water resistance, stain resistance, and extreme durability. Endurance is a particularly excellent quality in a kitchen flooring, as dropped objects are common in this room. Ceramic tiles are available in a range of designs so that you can create a one-of-a-kind floor. On the downside, ceramic is not comfortable to stand on for long periods of time because of its hardness. It is also heavy, which makes it a bad choice for kitchens on upper stories.
Porcelain
Porcelain is very similar to ceramic tiles, but it is even more durable and water resistant. These tiles are also very low maintenance. Cleaning porcelain tiles typically only requires sweeping and occasional mopping. All of these features contribute to its long lifespan, too. The downsides of porcelain are also similar to ceramic; the tiles are heavy, making DIY installation difficult. You will need to hire professional tile installation in Roswell, GA, with porcelain tiles.
Marble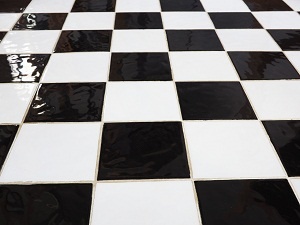 For an elegant and luxurious look, consider installing marble floors. This material is gorgeous and has been an essential of high-end homes for a long time. It's also available in an assortment of colors. Though marble tile excels in aesthetics, it is not the most functional flooring option available. Marble is susceptible to scratching and staining. It is also slippery when it gets wet, even though it is waterproof.
Pebble Tile
Pebble tile flooring is an emerging trend that offers a trendy and high-end look in the bathroom or kitchen. These tiles are made of a variety of colors and sizes of small pebbles suspended in concrete or resin. The pebbles are mined naturally from stone, so every pebble tile is unique. These contemporary tiles are especially great for bathroom remodeling projects and provide a relaxing, spa-like feel. This flooring is not perfectly smooth, which can be a turnoff for some people.
Travertine
A kind of limestone, travertine is a natural tile that is available in earth tones like rust, tan, and brown. This luxurious material can add a touch of rustic charm to any kitchen. It is also eco-friendly, recyclable, and biodegradable. One negative is the amount of maintenance it requires. However, if you are willing to care for it, travertine tiles can last a lifetime.