3 of the Latest Bathroom Renovation Ideas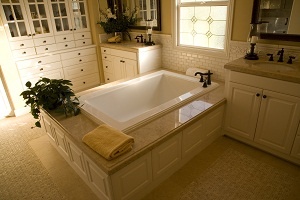 You know you want to renovate your bathroom because you don't like the look of it now. The challenge is figuring out how you want it to look, and there are many different options to choose from. Before you start bathroom renovations in Marietta, you'll probably spend hours collecting ideas. Here are 3 of the latest trends you should be aware of that might appeal to you.
Focal Point: Bathtub
Traditional bathrooms put the bathtub along a wall or even in a corner of the room. That way, it doesn't take up more space than it needs to. Having the bathtub along the wall also contains any water that might splash out during a bath. However, newest trends put the bathtub in the center of the room, making it the focal point of the entire bathroom.
There is something beautiful about a bathtub. It can be ornate, rounded, or designed with edges. Since bathrooms don't have a lot of furniture, it's not a bad idea to make the tub stand out. If your bathroom is rather small, this idea will not work because you need enough space to walk around the tub. Otherwise, it's worth looking into.
Windows and Mirrors
Most bathrooms are dark since the need for privacy limits the number of windows you want to put in. However, a bathroom with large windows or mirrors can look bigger and more inviting than a bathroom without either. Having more windows and mirrors also cuts down on the need for additional lighting.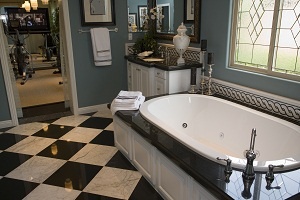 If installing new windows isn't possible because of the location of your bathroom, you can create a similar effect using tubular skylights and mirrors. And it's not just about adding a mirror above the sink, which is common. Instead, consider adding a mirror that spans the entire wall from floor to ceiling for dramatic effect. You can even add a mirror on the opposite wall to make the space look larger.
Stone and Marble
As far as bathroom renovation materials go, tile remains a favorite. Marble and stone are the kind of materials you want to use if you really want to stand out from the crowd. If you like a modern, luxurious look, marble is the preferred choice for countertops. On the other hand, stone allows you to create a warm and inviting bathroom for bigger rooms, too.
It's important to take your time to match the materials. You don't have to stick to one type of material for the entire bathroom, either. For example, you could have one stone wall to draw the eye and tile the rest of the bathroom.